Welcome to Freedom Motors
Freedom Motors, has acquired exclusive worldwide manufacturing and marketing rights to an exciting powerplant alternative that is ready for commercialization. This Rotapower engine is:
Based on Proven, Inexpensive Technology - the core technology was acquired from Outboard Marine Corporation, which produced the only Wankel rotary engine ever manufactured in volume in the US. OMC developed this technology and produced 15,000 engines in the 1970's in anticipation of stricter emission standards that only now have become law. These engines, collectively, accumulated millions of hours in operation. Manufacturing cost comparisons performed by OMC proved that the rotary engine was cost competitive with their simplest two-stroke engine.
Patented Technology - advanced proprietary improvements to the core technology generated by the Company, have enhanced reliability, improved fuel consumption and dramatically lowered emissions.
This combination of solid historical development coupled with recent technical innovation has resulted in an engine that has demonstrated:
Superior Emissions Performance - Recent tests verified by CARB that the Rotapower engine operating with gasoline produces less than 1% of the emissions of a comparable two-stroke and 14% of those for the four-stroke piston engine. The Rotapower engine uses a fuel delivery approach that eliminates the highly carcinogenic particulates produced by direct fuel injected diesel engines and new lower emissions two-stroke engines.
Outstanding Compact Power Delivery - Power to weight ratio for the Rotapower engine is 75% better than two-stroke engines, 250% better than four-stroke piston gasoline engines and 600% better than diesel engines. It has been operated successfully on gasoline, kerosene, alcohol, diesel and natural gas. With only two moving parts, cost and maintenance are projected at well below four stroke piston engines.
Demonstrated Applications - To date we have installed the Rotapower engine in a number of demonstrator vehicles, including a Sea Rader jet boat, a Honda Odyssey ATV, and Honda Civic hybrid automobile. Our most recent demonstrator is a Yamaha Waverunner XL in which we have installed a 3-rotor, 150+ HP, 1590cc Rotapower™ engine. In addition we have coupled the engine with a high-performance generator to make a man-portable 10 KW motor-generator set and integrated our 4-stroke 2.5 hp rotary engine into a weed whacker.
Multiple Displacement Models - Freedom Motors, in cooperation with Moller International, has continued to develop a variety of Rotapower engines from 2-to-300 horsepower–all based on the original design of Dr. Felix Wankel. Our patented Rotapower series differs from the Wankel-style engines developed by Mazda in that they use air- or charge-cooled rotors rather than an oil-cooled rotor, thereby saving weight, reducing fuel consumption and significantly lowering harmful emissions.
Negotiating Licensing Opportunities - Freedom Motors is current in discussions with a number of interested parties regarding the manufacture, distribution and sales of our products. For more information regarding these opportunities, please contact us by phone or email.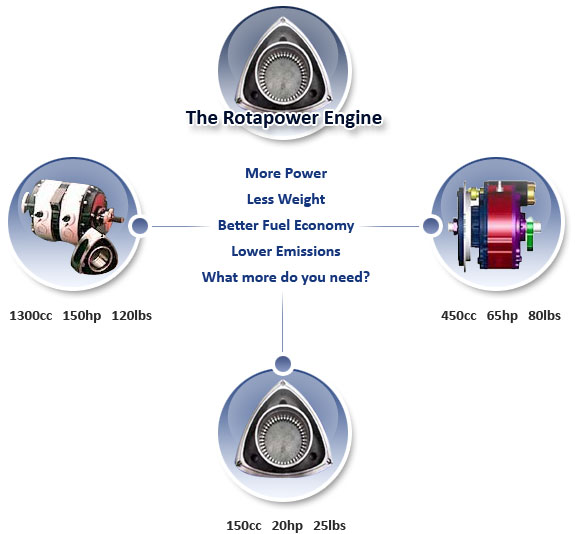 LATEST NEWS

April 6,2015

Davis, CA – (UPTICK Newswire) – (OTC: MLER)   Moller International's exclusive engine production licensee, Freedom Motors, has received letters of intent (LOI), conditional orders and firm orders for over 3.5 ...

Read more

January 7,2014

Automobiles and Motorcycles to Use Rotary Engine TechnologyDAVIS, Ca. January 7, 2014—Freedom Motors is the exclusive licensee for non-aviation use of the Rotapower® rotary engine technology developed by ...

Read more

November 1,2013

Moller International's Rotapower rotary engine reaches landmark horsepower output during tests conducted today.Davis, CA, (November 1, 2013) (GLOBE NEWSWIRE) – Paul Moller, President of Moller International, Inc. (MI) ...

Read more

August 1,2013

MOLLER INTERNATIONAL / FREEDOM MOTORSLetter from the Presidentby Paul S. MollerVolume 13, Issue 1                                          August 2013To: Moller International Newsletter SubscribersIn-HouseOur ...

Read more